Welcome to Our Cafe
What goes better with a good book but a steaming mug of coffee, or a yummy cup of tea? How about a Hot Cocoa or even a Mocha (coffee and cocoa)? In our cafe, we offer a wide selection of delicious Organic Fair Trade coffees and teas and chocolate from around the world. Enjoy!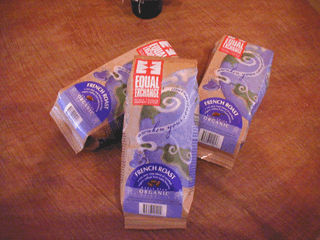 Organic Coffees. We proudly provide Equal Exchange's Fair Trade Organic Coffees. Equal Exchange boasts gourmet coffee direct from small-scale worker-owned farmer co-ops in Latin America, Africa and Asia. The best coffee you've ever tasted! Comes in 12 oz. drip ground Coffees bags that are Valve-Sealed for Freshness. … [ more ]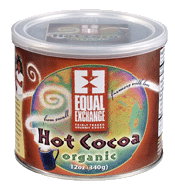 Hot Cocoa. Equal Exchange's organic cocoa is cultivated on small plots under a shade canopy that preserves critical elements of the native Dominican forests. The mix's other key ingredients are also sourced in a responsible manner. The organic dried milk powder is provided by Organic Valley, a fast-growing American cooperative of family farms who produce their own brand of organic dairy products … [ more ]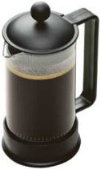 Coffee/Tea Presser. A presser, sometimes called a French press, is used to make hot tea or coffee by allowing the drink to brew and then "pressing" the beans or the leaves as a finish. You'll brew a perfect cup of tea or coffee every time. You can enjoy these pressers with our Fair Trade Coffees or one of our Organic Teas.
How do you make tea with a presser? … [ more ]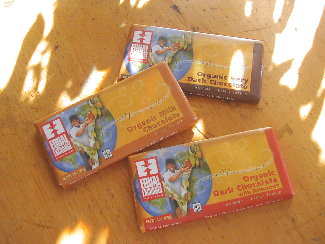 Chocolate Bars. Equal Exchange's rich chocolate bars are crafted using the best quality organic cocoa from the Dominican Republic and Peru. Small farmer coopertives cultivate the cocoa using environmentally sustainable methods. By choosing Equal Exchanges fairly traded products, you help provide small farmers the resources and opportunies they need to build a better future for their families and communities. … [ more ]